Turbopass customers say (since October 2016)
Write your review
"
Hamburg in fast-forward

"

We were 4 days in Hamburg, 3 days of which we had the turbo pass. We have seen so much in these days and thanks to Turbopass also quite cheap.

Evelyn M

. from Chemnitz, 08/2018
"
entertaining

"

We were in the Hamburg Dungeon and it was interesting. One is led through the different times as in an interactive play.

Customer from Neustrelitz

, 08/2018
"
Value for money

"

The pass is well worth the money for the transport pass alone. Once you've added all the extra tours and places the pass allows you to visit then you've definitely got your money's worth. Will be buying one again for the family next time too

Customer from Brisbane

, 08/2018
"
A really great holiday

"

The Turbo Pass offers everything you need for a successful Hamburg vacation!

Customer from Leverkusen

, 08/2018
"
Lovely again

"

Everything worked as stated. Also, the exchange of the free kids card caused no waiting and the staff were obviously familiar.

Waltraud L

. from Österreich, 08/2018
"
Super handy! Has been worth it!

"

Purchased a 3-day pass, you could get in very quickly everywhere. The delivered package has all explanations and insider tips included. Simply great!

Jessica D

. from Berlin , 08/2018
"
good product

"

We bought the product to facilitate access to attractions and transportation, it really did, it was a good decision since we did not have to worry about transportation and got access to all attractions we were looking for. Rome is an exiting city and hope to visit it again.

Marco G

. from Costa Rica, 08/2018
"
Rom City Pass

"

Very practically no queuing everything went very well

Customer from Pegau/Deutschland

, 08/2018
"
Berlin all inclusive

"

Has definitely paid off.

Svetlana R

. from Wiener Neustadt , 08/2018
"
Highly Recommended

"

With the turbo pass we could use all means of transport without stress. We also got a lot of discounts and free entries and tours. I think the passport is unbelievably awesome, it really has simplified a lot!

Customer from Rv

, 08/2018
"
Citypass - never again without

"

So far I had not indulged in the Citypass - I have never seen so much of a city as now. Therefore: Starting today, I always get the city pass when I travel to a new city.

Kristina W

. from Fürstenfeldbruck, 08/2018
"
The best solution for a city break

"

Great that we had the city pass, so we have seen a lot more than without !!

Kristina W

. from Landsberg, 08/2018
"
Excellent *****

"

From the order of the pass, to the shipping and the attractions contained therein, to the METRO tickets everything was very well organized and recommended.

Customer from Saarland

, 08/2018
"
great value for money

"

we enjoyed our visit to Dubai with Turbopass - you get all you need - hop on hop off bus - museum tickets - trips and cruises - including desert safari - we do recommend!

Marcin M

. from Poland, 08/2018
"
Well worth the money

"

We bought a Paris City Pass for our 5 day stay in Paris. We were able to access all the museums we could manage. Access to Notre Dame Towers and the Louvre were a highlight. The skip the line for The Louvre saved us hours standing in a very long queue. Having free public transport was invaluable. Would highly recommend for stays of 3 days or more.

Cathy M

. from Australia, 08/2018
"
Great with the turbo pass

"

Everything worked out wonderfully. Rome City Pass was there within 2 days by post. No queuing in Rome, the enclosed information booklet was very helpful, especially the tip with the best pizzeria near colloseum. True, pizza, wine, price and service were great. We completed the bus trip 3 times on the same day. We recommend

Gaby O

. from München, 08/2018
"
nice days in Venice

"

Thanks to the Venice City Pass we were well taken care of

Almut R

. from Speyer, 08/2018
"
Great, again and again!

"

I would buy him over and over. The fast inlet worked very well. I can recommend it to everybody.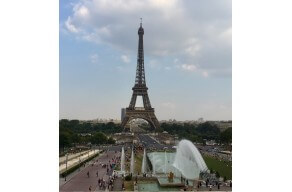 Customer from Teterow
, 08/2018
"
Turbo pass simply tip Definitely recommendable

"

We have only had good experiences with the passport. Without him, the holiday would have been only half as nice. To the Turbopass: Very good visual and above all informative presentation. Everything you need for a relaxing stay. It's also worth it if you can not take advantage of all the possibilities of the pass for time reasons. Was sent super fast. No long queuing at the Collosseum and the Vatican.

Customer from Berlin

, 08/2018