Current information: All attractions are closed with immediate effect.

Cheapest New York Pass! Experience 100+ attractions and save up to $474.50 with the New York Sightseeing Pass. Only here at the best price!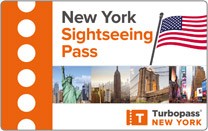 FREE ADMISSION in New York's top attractions and museums
EXCLUSIVELY WITH US: optional bookable MetroCard & entry to One World Observatory
FREE HOP-ON-HOP-OFF BUS TOURS for the duration of your pass
INSTANT DELIVERY and MOBILE TICKETING
SMART DEAL – save up to $474.50! Find out more here
CHEAP PASSES FOR CHILDREN – simply book with us!
Your All-inclusive Pass for New York includes:
Free admission to New York's top attractions and museums
Included tours by bus & boat in New york
Guided tours & bike tours for free
Fast track entry – Skip the line
Additional discounts for attractions, shopping & restaurants
Usage of public transport included (Optional)
Map of New York included
All service charges are already included
Overview of the highlights of Turbopass New York
Order your Turbopass New York conveniently and comfortably online now!
The New York Sightseeing Pass can be booked easily online. After booking, the Pass as well as all the most important documents and information for your trip are sent to your email address. The Pass can either be printed out or be used directly on your phone. In this way, you start your sightseeing tour of New York stress-free and explore America's largest metropolis and its top attractions and museums.
Experience the top attractions of New York with your New York Sightseeing Pass!

Take in New York and its unique energy, the place where anything is possible. Experience the highlights of the Big Apple and explore its top attractions and museums using the New York Sightseeing Pass. Enjoy the marvelous view from the One World Observatory, which was built on the World Trade Center and completed in 2015, also has a breath-taking 360 degree view of America's largest metropolis. With the New York Sightseeing Pass, you can explore world famous museums like the Museum of Modern Art, the Guggenheim Museum, the American Museum of Natural History, or the Metropolitan Museum of Art. You can explore famous neighborhoods of New York like Brooklyn and Bronx on exciting and diverse tours. Shop on Fifth Avenue, picnic in Central Park, or lay back and enjoy a bus tour through New York on a striking double-decker bus, where you can leisurely explore Downtown, Uptown or Brooklyn. Other highlights include the famous Statue of Liberty of New York and Ellis Island, which can be reached via boat — all of which is included in the New York Sightseeing Pass. With the New York Sightseeing Pass, you will have your "stress-free sightseeing package," which will help you have both an exciting and relaxing stay in New York City.
Learn more about the benefits of the New York Sightseeing Pass >