Turbopass customers say (since October 2016)
Write your review
"
Athen City Pass Complete

"

Our Turbo Pass Complete was already in the mailbox the day after the order. We were together for 5 days in Athens and have almost fully enjoyed the pass. In November, there are no guided tours but not bad. On the second and third day we used the hop-on-hop-off bus (yellow buses of the gray line) to explore the city and passed two routes. There was a coffee coupon for the canteen of Hondo's shopping center. At point 6 (bus exchange to the routes) you should definitely go to the hill to the Philopappos monument. The way there and the views are terrific. Our hotel was very central, so that all attractions could be reached on foot; Nevertheless, we have from the third day partly the metro or train used, which was very relaxing. With our tight schedule, we were able to visit the main attractions and museums with the help of the passport. However, the opening times stated on the Internet do not always coincide with reality. For example, the National Archaeological Museum opens at 9:00 am and the Epigraphic Museum at 8:30 am, which we were allowed to visit at 8:15. Overall, the Athenians are very nice and helpful anyway. In terms of price, the turbo pass is cheaper than if you buy the entrances to the main attractions, the hop-on-hop-off bus tour and the local transport, if you can take advantage of this time, with the ticket package for all seven stations of the acropolis 30 Euro costs. However, there are also the other smaller perks. The turbo pass is worth it alone for the preferred entry. Since we were in Athens for the first time, the Complete Pass helped us a lot with our sightseeing planning. Therefore, a clear buy recommendation.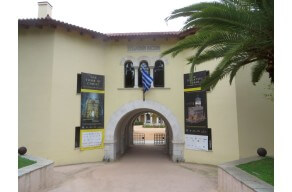 Ingrid B
. from Mülheim, 12/2018
"
Highly Recommended

"

Had booked only a short trip to Athens. The Turbo Pass was just great, no long queues, extremely time-saving! My next trip certainly not without turbo pass!

Birgit S

. from Österreich, 12/2018
"
Super pass very complete

"

Pass very complete, many free museums, the bus hop on / hop off the top, the Acropolis (a bit crowded but it's beautiful !!), thank you turbopass !!!!

GALOVIC D

. from MOVAL, 11/2018
"
Great trip

"

Treat yourself to a tour to the beaches, beautiful and with many nice tavernas.

Bettina A

. from Wien, 11/2018
"
Athens TurboPass

"

Highly recommended. Everything we expected and more. We won't take another trip to a major city without buying a TurboPass.

Customer from USA

, 11/2018
"
Athen City Pass Classic

"

Great thing. No hiring, come on. I would buy again and again.

Annette L

. from Berlin, 11/2018
"
Athen City Pass Classic

"

Great thing, if you always preferred. Recommended.

Bernd L

. from Berlin, 11/2018
"
Athens .. dream city

"

An excellent service ...

Maria C

. from Athen, 10/2018
"
toll

"

It was great

Customer from Germany

, 10/2018
"
Really great

"

We were completely mobile and have seen the most beautiful corners

to t

. from germany, 10/2018
"
Makes traveling to and exploring Athens so incredibly easy

"

Cody B

. from Kansas City , 10/2018
"
Athina

"

As always a great service .... Everything worked out wonderfully ... it facilitates so much ... thanks for the great service!

Maria C

. from Fürth, 10/2018
"
Turbopass rating

"

The Turbopass is the ideal companion for any city break. Since the entrances to the attractions are included, there is no annoying queuing queues. The use of public transport is also a big plus. In Athens you could also use the turbo pass for the trip to and from the airport. I would recommend the turbo pass to everyone.

Customer from Heddesheim

, 10/2018
"
Turbopass rating

"

I have only had good experiences with the turbo pass. No long queue at the sights. We often used public transport. That worked fine. The city tours were very informative. I would book the turbo pass for every city trip.

Customer from Heddesheim

, 10/2018
"
Definitely worth getting!

"

The Athens City Pass was definitely worth getting for myself and three children. I didn't have to purchase everything separately, I didn't have to worry about standing in line to get transportation tickets, and the discounts were nice to have. The public transportation in Athens is extremely easy to use, and I highly suggest using it to get around to other parts of the city that you wouldn't have had a chance to visit.

Customer from United States

, 10/2018
"
Great Option for a big City

"

I have gotten passes in the past for other European cities, and this one did not disappoint. We did not think we would be able to get as much in as we did, thanks to already having tickets so we could skip the long lines at the Acropolis and museums. We also used the Hop-On/Hop-Off bus as another form of the metro when we were not near a metro station. Would recommend this for anyone going to Athens.

Emily L

. from United States, 10/2018
"
Athens Pass - great

"

Everything was great with the Athen Pass. We also bought tickets for a museum before and otherwise we came without waiting in museums and attractions. It saved us time and also money before Or. In the future I will buy the turbo pass again on city trips. Definitely recommendable.

Customer from Potsdam

, 09/2018
"
Best deal out there!

"

This pass is the best deal you can get. It's all inclusive and also gets you transportation. Access into the main city sites. Highly recommend.

Customer from Athens

, 09/2018
"
Athen City Pass Mini

"

Everything worked out great. Staff at the stops very friendly and helpful. Gladly again

Heinz S

. from Bonn / Germany, 09/2018
"
Efficient and effective!

"

I was very pleased with the location of your agency right next to the entrance of the Acropolis! We didn't have to wait in line for tickets. Fantastic! Same at the museum. I'll recommend your pass to others. Thank you.

Customer from New York

, 09/2018