Please note that not all attractions in Dubai have reopened yet.
The Dubai City Pass: Your entry ticket to Dubai's top attractions including Burj Khalifa Ticket, Dubai Desert Safari, Dhow Cruise, The Lost Chambers Aquarium, Hop-on Hop-off Bus, Guided Tours and more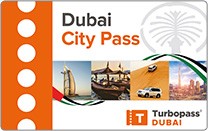 What's included in the Dubai City Pass:
Free entry to the top Attractions & Tours with the 1 and 2 day Dubai City Pass
More free entry to the top Attractions & Tours in Dubai with the 3, 5 and 7 day Dubai City Pass
Extra free bus and boat tours & guided walking tours in the 3, 5, 7 day Dubai City Pass
Free Admission to the Burj Khalifa - the worlds highest building
Free exciting Desert Safari
Free ride with the Hop-On Hop-Off BUS for 1, 2, 3 , 5 or 7 days
Shuttle Bus "Dubai – Abu Dhabi" included
All service fees included
Here are the highlights of the Dubai City Pass at a glance:
Free entry to top attractions to tours: The Dubai City Pass gives you free access to world-famous attractions, popular bus and boat tours and city tours in one package.
Free entry (skip the line) to the Burj Khalifa: Save time by skipping the line and enjoy the view from the tallest building in the world. Get your personal entrance ticket from us with time slot with the purchase of your Dubai City Pass.
Free desert safari: Experience the stunning landscape of the desert on an exciting desert safari, which includes a transfer to your accommodation, a wild 4 x 4 off road in the red dunes exklusivly only this supplier offers and many touristic extras like live entertainment. Once you have received your Dubai City Pass you can reserve your seat.
Inclusive Hop-on Hop-off Bus: Choose between three different Hop-on-Hop off bus tours. All buses are equipped with air conditioning, free Wifi, complimentary water, and an audio guide (available in 12 languages) for your enjoyment. The bus is free for all days of your pass. Simply hop on and off all service times. The friendly staff of the bus will help you during your visit.
Informative city tours included: Explore Dubai's traditional and modern neighborhoods by participating in four different city tours!
Booking made easy: Book online and, within 48 hours, you will receive your Pass via email that can be used immediately! Great for last minute-booking.
Everything you need to know: When you book your Dubai City Pass, you will receive all the important information you need by e-mail from us. You will find all the details about the attractions in the ticket attachment.
Competent customer service: If you have any questions or concerns, our colleagues are available anytime via email or by phone from Monday to Friday, 9:00-18:00 (6 PM).

We look forward to your suggestions and pictures of your vacation in Dubai!
Practical and convenient: Order your Dubai City Pass from home now.
Book your Dubai City Pass here on the official website (see the "Book Now" button to the right). At the end of the booking process, you will receive an email with all the important documents you need for your trip to Dubai. We kindly suggest to print out all the documents included in the email, thoroughly read the conditions of usage of the Pass, and to make sure all your personal data are correct. If you have any questions, our customer service agents are glad to help!
Dubai – The boomtown on the Arabian Gulf

Discover Dubai, the city of superlatives! Dive into this oriental world, where 1001 nights come alive! The city shares its name with the emirate, Dubai (also called "Dubai City"), and is one of the most visited cities in the world. Dubai is famous for its unique and spectacular buildings. Amongst these buildings is the 830-meter-tall Burj Khalifa, which is considered to be the world's tallest building. Another world-famous construction in Dubai is the largest man-made sand island in the world, "the Palm" or also called the "Jumeirah Palm". This island is home to not only luxurious apartments and hotel complexes, but also offers a variety of entertainment to enjoy such as the "Atlantis – The Palm". Just as how films have depicted Atlantis, this lost city has been built and also accommodates a resort, water park, and an aquarium. With the 3, 5 and 7-Day Pass, you have the opportunity to do an excursion with "Palm Island Drive" and explore this unique sand island. Also included in the 3, 5 and 7-Day Passes is admission into the aquarium, "Atlantis The Palm – Ambassador Lagoon" and "Atlantis The Palm – The Lost Chambers". The second largest city of the United Arab Emirates, Dubai was divided by natural estuary of the Persian Golf, the Khor Dubai (Dubai Creek). To get a whole different perspective of this majestic city, you can go ride a Dhau, which is a traditional-styled boat, and view the city straight from Dubai Creek. During your stay, you will experience not only Dubai's vibrancy through its numerous awe-inspiring sky scrapers, but also through more traditional aspects of the city. Because of its diversity, visitors of Dubai can stroll through romantic streets, peruse oriental Souqs (traditional markets), and walk along the beach. Discover Dubai at your own pace with the Dubai City Pass. With it, you can experience diverse perspectives of the city and have a relaxing vacation in this multi-faceted city.

Learn more about the benefits of the Dubai City Pass >>