Discover Athens. Please note that the bus tour will be running again from June 18th. The day cruise will be back in service from July 1st.
The Athens City Pass® is your sightseeing pass for Athens – Visit the top sights and museums, get great discounts and save time and money.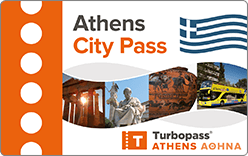 FREE ACCESS INCLUDED to the worldfamous ACROPOLIS *
FREE PREFERRED ENTRY to the New Acropolis Museum
FREE ACCESS to other historical sites, e.g. Temple of Zeus
SAVE UP TO 50 % at fees, great guided tours, food and shopping
ONE DAY CRUISE & PUBLIC TRANSPORT optional bookable
What is included in the Athens City Pass?
Free and reduced admission to the top attractions, tours and discounts
High discounts on guided tours and excursions
Attractive discounts on gastronomy and shopping
Free Hop-on-hop-off open top bus tour of Athens and Piraeus (currently not yet running again, status: 05.2021)
Athens One Day Cruise to three islands incl. pick up – bookable for your journey from July 1st
Public transport of Athens with airport – in the Pass with public transport
More points of interest in Athens and beaches – don`t miss it
All service fees already included
Your Athens cruise for one day to three islands – book something special for your journey in 2021:
The "Athens One Day Cruise" takes place daily. After receiving your Athens City Pass, book your preferred date directly with the provider and state your pick-up location in Athens (hotel). The transfer to and from the port as well as a free lunch buffet and entertainment on board are included when booking here. You will receive all information and contact details with your Athens City Pass. The cruise ticket is valid 12 months and you can participate independent from the validity of your Athens City Pass, even on a day before or after the validity of your pass.
* Please note: visitors up to the age of 25 from EU countries are entitled to free admission at the Acropolis. (free ticket must be picked up at the Acropolis ticket office.) For persons under 26 years from non-EU countries, admission fees may apply.
Here are the details of your Turbopass Athens at a glance:
Visit the most famous sights and museums of Athens for free: Visit the Acropolis, the Ancient Agora, the new Acropolis Museum, Kerameikos and many other top attractions with the Athens City Pass.
Less queuing – Save valuable travel time and skip the lines at the ticket offices of the most popular Athens tourist attractions.
Inclusive: Great Hop-on-Hop-off city tour in an open top bus with audioguide on three different routes through Athens (currently not available).
Save with discounts up to 30 % on tours and 50 % on famous museums, get extras and more savings on shopping & gastronomy.
Optional public transport ticket by post – free travel by metro, bus, tram in Athens (incl. route airport - city centre) – travel as much as you like for 72 or 144 hours with your travel pass Athens.
Buy now and receive your Athens City Pass immediately by e-mail – all Athen City Pass types (without public transport) will be sent to you by e-mail immediately after receipt of payment. Print it out or simply use it on your smartphone.
Everything you need to know: After the booking of your Athens City Pass we will send you all important information by e-mail. You will find all details to the attractions and offers in the ticket attachment.
Visit Athens well organized – save money and valuable travel time during your stay in Athens with the Athens City Pass, the official City Card Athens.
Athens Tower of the winds

Convenient and simple: Order your Athens City Pass now from home and receive it by e-mail.
You will receive the Athens City Pass immediately after receipt of payment by e-mail (please also check the spam folder of your e-mail account). For bookings with local public transport, you will receive your public transport ticket by post.
You can print out your city pass or use it on your smartphone. Save valuable time on your holiday in Athens and enjoy all the benefits right from your arrival. Ideal for all seasons, ages and tastes. Order now here on the official website at the guaranteed lowest price.
Visit the most famous attractions with your Athens Sightseeing Pass for free.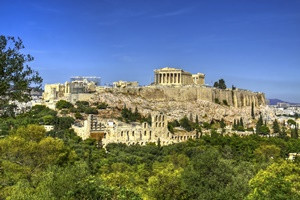 The Athens City Pass is your ticket to the top attractions and museums of the Greek capital. Visit the landmark of Athens, the Acropolis, where you can admire the famous Parthenon Temple. Visit the north and south slopes to explore the Theater of Dionysus, the Odeon of Herodus Atticus and many other monuments. Your Athens City Pass also includes free admission to the New Acropolis Museum. The artefacts come exclusively from the Acropolis area and include the Caryatids and the Parthenon frieze. To make it easy for you to visit all the attractions without any extra cost or time to buy tickets, the Athens City Pass also includes a public transport ticket. Book the Pass and benefit from the advantages of your practical Athens Card from the moment you arrive at the airport.
Learn more about the advantages of the Athens City Pass >
Athens City Pass® is a registered Greek Trademark.