The Venice City Pass: Your admission ticket into Venice's top attractions.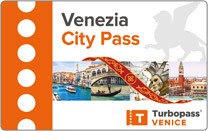 Free admission into various attractions
Boat ride on the Grand Canal or a gondola ride
Fast track entry into Doge's Palace
Free transfer to and from the airport
Venice Travel Guide
What's included in the Venice City Pass?
Free admission to Venice's top attractions, museums & churches
Fast track entry – skip-the-line
Transfer to and from the airport of Venice included
Tour on the Canal Grande or Gondola ride
Free public transport included (optional)
Venice Travel Guide
Further attractive discounts included
All service charges are already included
The Venice City Pass: An Overview
Booking made easy! Receive and use your Pass immediately: your Pass will be sent ready to use to your email after confirmation of payment.
Free admission into museums, churches, and attractions: Explore the lagoon city – The Venice City Pass allows you to access and use all attractions.
Less time standing in lines: With the Venice City Pass, you will not only have free admission but also fast track entry into selected attractions, which will allow you to skip the waiting line at attractions like Doge's Palace and save precious vacation time.
Free airport transfers: Airport transfers are included in the Pass and allows you to ride comfortable buses to and from the Marco Polo airport and Venice.
Free boat ride on the Canal Grande: Admire Venice from the unique vantage point of a boat and discover impressive palaces, churches, villas, and bridges along the canal. Alternatively, you can also go on a gondola ride.
Attractive discounts: With the Venice City Pass, you can get discounts on exhibitions held by the Palazzo Fortuny (included in the Venice City Pass Best).
Digital travel guide: You will receive a convenient travel guide with tips for your stay in Venice along with your Pass. This travel guide includes detailed information about the attractions, opening hours, addresses, a city map, and also additional helpful tips. This travel guide is provided at no extra cost to you.
Customer Service: If you have questions, our competent colleagues in Customer Service are available per telephone from Monday-Friday, 9:00-18:00 (6:00 PM). We would also appreciate any suggestions you may have, as well as photos that you made during your stay in Venice.
Conveniently and comfortably buy and print out your Pass:
Purchase the Venice City Pass directly here on the official Turbopass website and simply print out your travel package at home. In this way, you can spontaneously book a trip to Venice. No hidden service fees or other charges. If you cannot print your Pass out at home, we can also send your Venice City Pass to you per post, simply choose the postal mail option during the booking process. Order the Pass now (see the "Book Now" box on the right) on the official Turbopass website and look forward to visiting the top attractions of Venice for free. You will receive your Venice City Pass via email (please print out and read all attached documents in their entirety, as well as the terms of conditions).
Explore the most beautiful city in the world using the Venice City Pass!

To truly experience the magic of this city, one must see Venice themselves. Explore the best sights and attractions of this lagoon city with the Venice City Pass, which includes 18 of the most gorgeous churches and numerous important museums around St. Mark's Square. World famous structures such as St. Mark's Basilica (and St. Mark's Companile), Biblioteca Nazionale Marciana (the largest library in the world), and Doge's Palace. The last attraction mentioned is notable for its luxuriant halls and famous paintings by Tizian and Tintoretto. Venice is unique—The city was built on 118 small islands and is completely car-free. Discover the Canal Grande on a boat tour, where you will float by palaces of numerous Venetian merchant families. Or you can hop on a gondola and have a romantic tour through the small canals located in Venice's historic downtown. In the Venice City Pass (Classic & Best), you get a boat tour in the northern lagoon to the glass blower island Murano, the colorful fishing island Burano, and the whimsical island Torcello. A travel guide with tips and information about all the attractions covered by the Pass is also included in the Pass' booking price, as well as free transfers to and from the airport.
Get to know all the sides of the "City of 1000 Bridges" using the Venice City Pass!