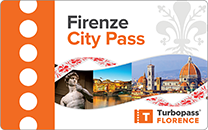 FREE ENTRY into world-famous attractions
SAVE MONEY as everything is included in one low price
FAST TRACK ENTRY to the Uffizi & Accademia Gallery
OPTIONAL TRAVELCARD to explore the city with ease
FREE TRAVEL GUIDE to get around the city
Free admission to top attractions & museums in Florence
Fast track entry – skip-the-line
Free public transport included (optional)
Florence Travel Guide
Additional discounts for museums
Tips: more attractions in Florence - don't miss it
All service charges are already included
Overview of the Florence City Pass
Easy booking process! You will receive your Florence City Pass within 48 hours via email.
(If you booked the optional Travelcard, the order will be sent to you per Post!)
Free entry to world-famous attractions: Experience the top attractions and museums of Florence stress-free and at no extra cost to you. Save money with your Florence City Pass.
Less waiting in lines: Skip long lines at selected attractions. With your Florence City Pass, you will have your admission ticket and all the information about opening hours.
Free guided tours: Get inside information about the historic city and the architectural masterpieces of the Renaissance.
Included Travel Guide: Your Florence City Pass includes a Travel Guide with interesting information about Florence as well as additional tips for your stay.
Optional Travelcard: to simplify getting from A to B in Florence.
Competent customer service: Our colleagues are available to answer any questions you may have from Mondays – Fridays, between 9am – 6pm (CET) per phone or email.
Free entry into the top–attractions of Florence

Maximum convenience – buy and print out your City Pass from home:
After booking a Florence City Pass on our official webiste, you will receive your Pass and all the important documents you need per email to print out and start using as soon as you like. We advise you to print out ALL included documents sent to you and to read them carefully. If you added the optional public transport to your order, the documents as well as the Travelcard will be sent to you per Post.
Discover the birthplace of the Renaissance with the Florence City Pass!

Even today, Florence is considered to be the birthplace of the Renaissance, thanks to the Medici family, who was (amongst other things) famous for being a patron of the arts. The Medici family held power in Florence for about 300 years, and during their reign of power, also supported the work of many artists—many of which are world-famous to this day. One of the most important of these artists who was also discovered by the Medici family was Michelangelo. One of his most famous works, the Statue of David, can be admired in the Galleria dell' Accademia (Gallery of Academia). The Gallery of Uffizi offers its visitors an excellent collection of famous artifacts and is the most visited museum in all of Italy. Among others things, this museum is home to art work by artists like Michelangelo, Leonardo da Vinci, and Botticelli. Another attraction in Florence is the Museo Leonardo da Vinci, which is a museum dedicated to its namesake. Leonardo da Vinci is regarded as a renown painter and sculptor, but also an all-round academic and genius who was well-versed in the areas of architecture, engineering, and science. This can be prominently seen in many of his works that portray his studies of the human anatomy. When in Florence, you must visit its landmarks such as the famous Santa Maria del Fiore Cathedral and the famous bridge, Ponte Vecchio. With the Florence City Pass, you can explore the capital city of Tuscany flexibly and at your own pace!