Please note that all museums in London are closed at least until April 2021.
Experience the best of London with a London City Pass: the best way to save time and money at top attractions and museums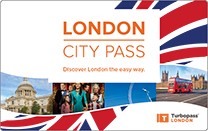 FREE ENTRY to the top London attractions
FREE THAMES RIVER CRUISE to experience London from the water
SAVE MONEY as everything is included in one low price
SAVE TIME with skip the line priorities
ADDITONAL DISCOUNTS & SAVINGS across London
What's included in the London City Pass?
Free admission to London's top attractions
Free Hop-on Hop-off bustour, thames river boat cruise & guided tours in London
Free public entry to museums and galleries
Free public transport (London City Pass with public transport)
Further attractive discounts included
All service fees included
Highlights of the London City Pass:
FREE ENTRY TO TOP SIGHTS & ATTRACTIONS in London – incl. the world famous top attractions (please change language to German for details) and also Tower of London, Kensington Palace, View from the Shard,
FREE RIVER THAMES CRUISE to see the London attractions from the water
SAVE TIME with VIP skip the line priorities at sights and museums
SAVE MONEY as everything is included in one low price
WITH ALL IMPORTANT INFORMATION: When you book your London City Pass, you will receive all the important information you need by e-mail from us. You will find all the details about the attractions in the ticket attachment.
OPTIONAL LONDON TRAVELCARD to explore the city with ease. Travel as much as you want with the London public transport and profit from further discounts.
ADDITIONAL DISCOUNTS & SAVINGS at even more tours, bars, restaurants and shops
NO HIDDEN COSTS: booking & service fees and taxes are already included in the price
Practical and convenient – order the London City Pass now from home!
The London City Pass without public transport ticket will be sent to you by e-mail right after we receive your payment. If you book the London City Pass with public transport ticket you will receive your London City Pass by post. That way you can start your London sightseeing tour straight away after arriving. Order now on the official website and look forward to visiting the most popular sights in London for FREE with your London City Pass!
Exciting attractions, Royal Palaces, culture, and many more attractions

The British capital is one of the most popular vacation destinations because of its diversity and openness. The British royal family is considered to be one of the most famous and popular noble families in the world. Tourist favorites to see in London include the impressive crown jewels of the queen in the Tower of London, Lady Diana's residence in the Kensington Palace. The London Eye, London's Ferris wheel which is located at the river bank of the Thames, allows you to have a bird eye's view of the city. At Madame Tussauds, you can get to know celebrities and even the British royal family up close! London is also home to hundreds of museums. For all London explorers who would like to be as flexible as possible while still taking advantage of all the perks of the city, then the London City Pass is a convenient combo ticket to see all the top sights, attractions and museums in London – and it also acts as your own perfect travel guide! Enjoy your holiday in the British capital and plan your stay in the city flexibly and stress free. With your Visitor Oyster Card, which is included in the London City Pass with public Transport, you can visit various London attractions quickly and easily.