Turbopass customers say (since October 2016)
Write your review
"
Rome without a long queue

"

Rome without a long queue

Martina S

. from Annaberg-Buchholz, 05/2018
"
Toller Trip nach Rom

"

Die Entscheidung war goldrichtig.
Wir haben sehr oft die Öffentlichen benutzt, mit dem Romapass kein Problem. Schon der Vorzug die langen Warteschlangen zu umgehen ist es wert den Pass zu kaufen. Mag in anderen Städten vielleicht nicht so stressig sein aber für Rom nur zu empfehlen. Normale Wartezeiten ohne Pass am Kolusseum ca 2-3 Std. Mit dem Roma Pass ca. 15 Minuten
Für meine nächsten Städterreisen ist dieser Pass mit Sicherheit eine Option.

Günter Z

. from Gräfenberg , 05/2018
"
Alles bestens vorgeplant

"

Tatsächlich war es so: wir hatten unsere Eintrittskarten in form des City Pass und sind jeweils ohne Extra-Anstehen
in den Vatikan und ins Colosseum reingekommen. Die Anmeldung für eine bestimmte Urzeit zur Vatican Besichtigung war auch zuvor getätigt vom Citiy card Anbieter uns so lief alles reibungslos.


Ursula S

. from Freudenstadt, 05/2018
"
tolle Besichtigungen

"

Die Voranmeldung für die verschiedenen Sehenswürdigkeiten lohnt sich wirklich: man kann an der anstehenden Warteschlange vorbeigehen und ist sehr schnell im Museum.
Alles hat tadellos geklappt.
Der Ausblick vom Dach der Engelsburg über Rom war traumhaft schön.

Ivo B

. from Schweiz, 05/2018
"
As promised, no queues, optimal for public transport

"

An incredible view over the whole of Rome is from the Terrazza del Gianicolo. The climb is definitely worth it ...

Customer from Bad Wildungen

, 05/2018
"
Ein MUSS für eine Kurzreise

"

Ohne den Pass hätten wir lange anstehen und warten müssen, so ging es einfach und bequem an der Schlange vorbei. Keine Fahrkarten für den öffentlichen Nahverkehr mussten gelöst werden, einsteigen, mitfahren, aussteigen... so oft man möchte .Rom ist wohl die Sehenswerteste Stadt, die ich mir vorstellen kann und da wir nur ein paar Tage Zeit hatten, war der Rom Pass für uns genial. Bestellung und Postlieferung nach Hause verlief problemlos... alles wie es beschrieben wird. Wir hatten den 3 Tage Pass und können ihn nur empfehlen.

Gudrun B

. from Hannover, 05/2018
"
Alles wie versprochen ... Prima

"

Alle Leistungen waren wie angegeben einfach und unkompliziert an allen Schlangen vorbei ...

Stefan W

. from ROM, 05/2018
"
Rom - ganz entspannt mit Turbopass

"

Wie gut, dass wir den Turbopass gekauft haben, frei Fahrt und dann vorbei an allen Warteschlangen,

Customer from Düsseldorf

, 05/2018
"
Rom ohne Wartezeiten

"

Ich hätte es nicht gedacht, aber wir sind tatsächlich an den endlosen Warteschlangen vorbeigelaufen.

Customer from Düsseldorf

, 05/2018
"
Ohne Wartezeit in Rom

"

Enorme Zeitersparnis, vorbei an den langen Schlangen vor dem Vatikanischen Museum, dem Kolosseum, dem Forum Romanum und der Engelsburg- nur zu empfehlen.

Customer from Düsseldorf

, 05/2018
"
Eine gute Entscheidung - der Turbopass für Rom

"

Hätten wir den Turbopass nicht gekauft, so hätten uns Wartezeiten von mehr als 2 Stunden bei 29 Grad in voller Sonne erwartet.

Ingrid B

. from Rom, 05/2018
"
Lohnt sich!

"

Alleine um an den endlosen Schlangen im Vatikan vorbeizukommen (siehe Foto) mittels FastLane hat sich der Pass gelohnt. Das gleiche am Colosseum und Forum Romanum - mit Vollgas an den Wartenden vorbei :-)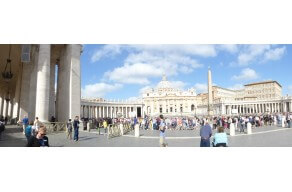 Thorsten W
. from Gelsenkirchen, 05/2018
"
Guter Value fürs Geld

"

Wir waren sehr zufrieden mit dem Angebot, vor allem die Eintritte ohne Anstehen sind einiges Wert.

Günter S

. from Zürich, 05/2018
"
Alles perfekt gewesen

"

Es hat wirklich alles so gut geklappt wie beschrieben. Mit dem Ticket kam wie beschrieben einen Sondereingang zugewiesen. Ich würde den Turbopass jederzeit wieder buchen!!!

Customer from Magdeburg

, 05/2018
"
Bewertung Roma Pass

"

Der Rom City Pass ist eine super Sache.
Fairer Preis und der große Vorteil, nicht anstehen zu müssen.
Beim Kolosseum war eine sehr lange Schlange aber mit dem Turbopass kein Problem.
Kann ich sehr weiterempfehlen.

Johannes W

. from Österreich, 05/2018
"
Perfekt!

"

Die Abholung Vorort hat ohne Probleme funktioniert. Es ist wirklich fabelhaft nicht anstehen zu müssen und an den langen Schlangen vorbei zu gehen. Würde es jederzeit wieder so machen.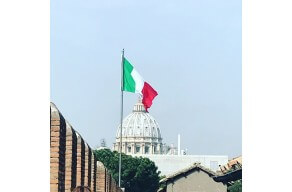 Customer from München
, 05/2018
"
City break Rome with Turbopass

"

With the Turbopass you are always one step ahead in Rome. Starting with a quick and uncomplicated booking of the pass on the Internet to fast shipping home, you could also enjoy various discounts in Rome, which saved not only money but also a lot of time. So you could easily get past the long queue when entering the Colosseum or the Vatican Museums. In addition, all sights were quickly reached by subway or bus. No annoying hiring at the ticket machine or looking for small change - with the Turbopass it simply means get in and drive off. As a conclusion of four very beautiful days in Rome was still a city tour (also included in the turbo pass), where you can leave the previously experienced once again in peace in the open bus review. Can only recommend the pass!

Sandra P

. from Österreich, 05/2018
"
Rome with turbo pass without stress

"

Wolfgang B

. from Sachsen, 05/2018
"
charming Rome

"

Vivi Bistrot is a nice café in Villa Doria Pamphili Park, perfect for relaxing after a strenuous tour. You can take espresso and dolce outside and relax in the grass and enjoy bella Italia!

Uwe N

. from Leipzig , 05/2018
"
Sehr schöner Rom Urlaub

"

Frank O

. from Elsterwerda, 05/2018