Turbopass customers say (since October 2016)
Write your review
"
Uncomplicated and cheap

"

Due to the pass we were very flexible and could use buses and trains without constantly buying tickets! Very convenient, also because the network of public transport in Munich is well developed.

Stephan J. S

. from Platten , 12/2018
"
Did exactly what it said

"

We had access to the whole city and airport, with discounts on loads of attractions.

Ryan C

. from Southampton, 12/2018
"
Münchentrip again dreamlike

"

With the Turbopass we were always mobile at any time of day or night and could enjoy our activities without any complications. For example, in the "boat", Bavaria Film Studio

Customer from Witten

, 12/2018
"
Convenience

"

It was very easy to buy and use the pass. We have used it on trams and metro. Unfortunately, the day of our visit was a religious holiday. So most of the museums were closed but we will also try that next time!


FEZA A

. from Turkey, 11/2018
"
Good value to visit Munich

"

Great city, using City Pass was easy and saved money. Don't forget to visit BMW Welt and Hofbrauhaus (good prices and fantastic beer)

L M

. from Brisbane, 11/2018
"
The pass was fine for Munich

"

The order was fine. The use of the pass was great. It was accepted by the mentioned companies, sometimes the persons in Metro were looking, what is this, but is was ok.
Using it at the companies/musea was also good!

Martijn L

. from Nijkerk, 11/2018
"
Munich

"

It was good

Nadine H

. from Freiburg, 11/2018
"
Reliable, fast, available by phone

"

German Museum always great!

Customer from Pegnitz

, 11/2018
"
City trip Munich

"

City trip Munich

Customer from Mainz

, 11/2018
"
Just get in and enjoy!

"

No pressure with ticket redeeming! We just sat in the tram and drove from end to end stadium to get an impression of Munich. The kids really enjoyed it. Also from the main station to the hotel to Arena- to the museum island ... class also the reduced entrance fees!

Customer from Baden-Württemberg

, 11/2018
"
It is worth to purchase the City Pass

"

Top value for money. We would buy the Munich Citypass again and again. We were able to use the complete Mvv network with the pass. The benefits (admission) are good.

Janina K

. from Neuss, 11/2018
"
Nice days in Munich

"

In great weather we spent some nice days in Munich. The German Museum, the Marienplatz with the great town hall (and the good food in the Ratskeller), the Viktualienmarkt and the English Garden are a must. Everything was easily achieved with our "CityTourCard". We look forward to our next visit to Munich.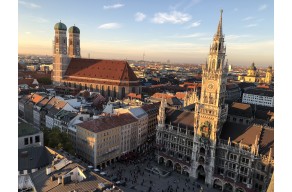 Hans-Peter F
. from Menden , 11/2018
"
Excelent benefits

"

You have to review the main places you want to visit because the city pass includes many activities. I did not visit all, I had not time, but nevertheless it was worth the purchase.

Customer from Mexico

, 11/2018
"
Make the city trip super easy!

"

We have visited Munich for the second time. But this time with the city pass for the Öfis. We can only say that we have never traveled through Munich better and easier. Also the more expensive tariff with airport was worthwhile! We would book this pass again and again !!!

Daniel R

. from Brilon, 11/2018
"
Everything great

"

Better than a MVV ticket

Susanna S

. from München, 11/2018
"
Great deal

"

The card is helpful and worth the value just by using the metro a few times but even more so once you start taking advantage of the discounts at local museums and shops too. My friends and I enjoyed seeing Munich and were able to save money too!

Anyon R

. from United States, 10/2018
"
City Pass in Munich

"

The City Pass for Munich is a really good investment. Drive as often and as long within Munich's as you like. No constant tickets buy at the machine. I bought a 5-day pass for 33 €, so 6,60 € per day. A very good price / performance ratio. Any time!

Frank M

. from Kierspe, 10/2018
"
Great value

"

Used for five days and worked very well. No problems and easy to use.

Danilo C

. from United Kingdom, 10/2018
"
Awesome deal and great service

"

I stayed in munich in a Airbnb during Oktoberfest 2018. My apartment was about 30 min using public transport from main train station, so me and my wife used a lot of public transport. Munich card is super convenient if, specially during busy times, we used Trams (to avoid walking a lot to move around), used night buses, day buses, Ubahn, Sbahn without no worrying to buy a ticket every single time which was going to be more expensive than Turbopass. I will strongly recommend it to you can get to know munich better or at least cheaper by staying out of old town. Munich public transport is AWESOME.

GERARDO M

. from Mexico, 10/2018
"
Great offer

"

For tourists who spend several days in Munich, it is a great offer to explore the city without stress

Silke R

. from Neubrandenburg , 10/2018